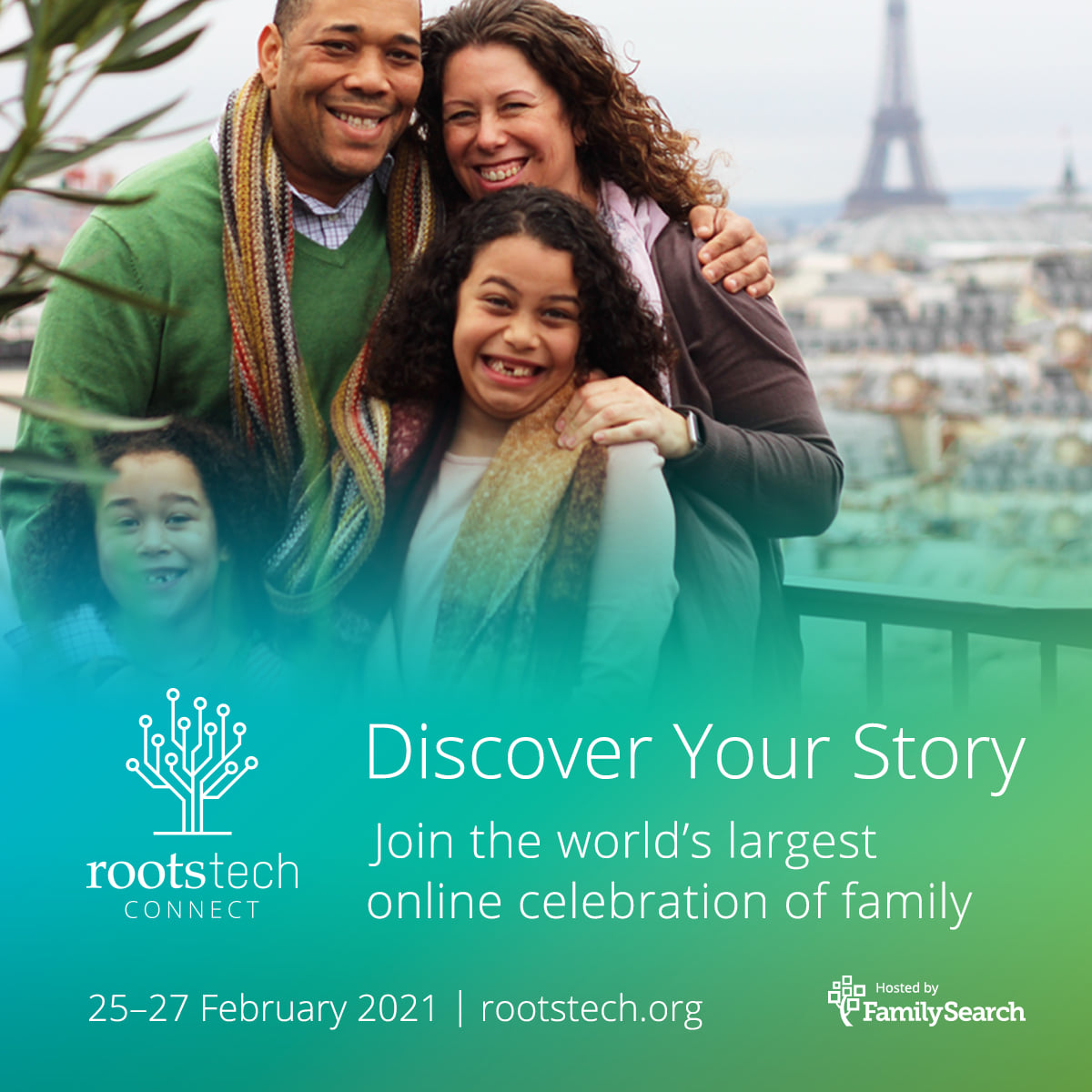 As most of you know, the RootsTech Conference has been transformed into a FREE virtual world-wide event for 2021 – Called RootsTech Connect! This new experience just went live today, so, what can you expect? Many of the same exciting elements we are used to during the on-site event, such as great sessions, inspiring keynote speakers, an expo hall, and making connections with your fellow attendees. It's just a remote experience, with the world audience in mind – speakers from many countries with sessions in many languages! And while we will most definitely miss the hugs, library research, vendor talks, catching up, and great food, this is the next best thing.
Here are a few things to note:
As of the conference launch, there have been over 500,000 registrations from around the world!
But if you did not register – have no fear – you can still experience the full conference even without registering! Simply head over to the main website and enjoy the many videos at your fingertips. If you would like to develop your own playlist for the coming year, and communicate with speakers, friends, and vendors, just create a free FamilySearch.org account to connect you to the fun!
Also, there is NO schedule for the regular sessions – these have all been pre-recorded and placed online for you to consume at your leisure. Think GenFlix for us genealogy junkies! The keynote sessions are scheduled, there on the main page – but if you miss one, they are recorded for you to enjoy later.
While you're enjoying this new experience, please stop in to view the four sessions I have in the video docket:
471123 – Beyond the FAN Approach: Inclusive Research Strategies
471127 – Airtable: Organizing Your Research with a Relational Database
471179 – Practical Preservation Demonstration
471215 – Successful Remote Research Strategies
Officials have reported that 80% of those registered are first time RootsTech attendees. For those new to the RootsTech experience – or for those missing the in-person fun, I have a created a special episode of the BloodRoot podcast devoted to RootsTech Connect! I've had a few friends drop by to share their favorite memories from the past, and tell us what excites them about this new format for 2021. (Linda Colston, Cynthia Maharrey, Miles Meyer, Tami Osmer Mize, Elizabeth O'Neal)
But first things first: For the next three days, you should focus your attentions on CONNECTING to your fellow attendees, experts, and vendors. Those connection features will disappear at the end of the conference this February, so prioritize your experience, and get connecting! Beyond the huge list of sessions available for the next year, I hope and suspect that the connections will remain strong, even through this virtual format. Please prioritize your experience – seek out the speakers, vendors, groups, panels, and friends you want to connect with – for this portion of the event is time sensitive. Once the conference is over, you'll have to find ways to reach out on your own, or just settle for binge watching the sessions. I mean, we're going to do that anyway, but do not let this connection opportunity pass you by!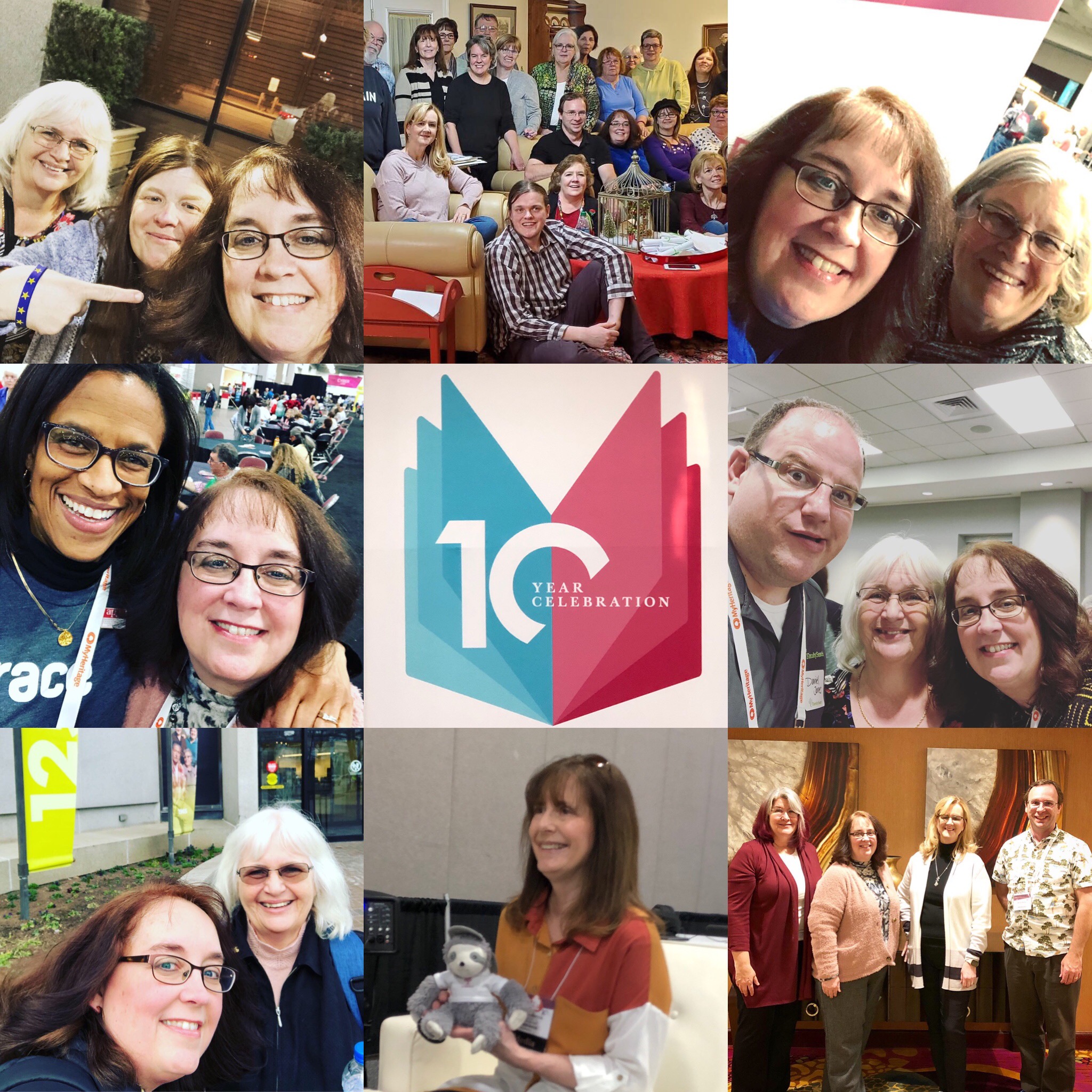 This time last year, many of us were happily traipsing around the Salt Palace in downtown Salt Lake City – wallowing in genealogy bliss – oblivious to the approaching Pandemic storm. Those memories will always be very poignant as the years progress, because as soon as we all got home, the world shut down. And indeed, I believe our world changed forever in many ways. One of the largest changes to hit was the inability to travel or gather in large groups. Effectively removing the on-site conference experience.
After such a difficult year for the world, this new experience is a sign that our genealogy world will never be the same. As officials have said, in the future, RootsTech will always have a much more robust virtual experience – regardless of whether we can attend in person or not. This is wonderful news – especially for the world-wide community that we are now connecting with in 2021. For all of the first time attendees out there, welcome to the RootsTech family! If you want to connect with me during the conference – visit the chat rooms for my individual sessions – or give me a shout out via my social media channels!
These are exciting days for the genealogy/family history community! Enjoy it to the fullest!