As summer marches along, another holiday is fast approaching – Juneteenth, occurring this year on Monday, June 19th. In honor of this holiday, marking the end of slavery in America, Family Search has selected Juneteenth as the topic of the month for its new monthly lecture series.
Since the 2023 RootsTech Conference, back in March, the Family Search team has decided to keep the educational momentum going by hosting additional live sessions each month under the umbrella of a unique selected topic. So far, they've had Women's history, DNA, and now Juneteenth coming up in the next week.
The speakers selected for these featured sessions are usually RootsTech veteran speakers (but not always) and are asked back to provide fresh, new content for the designated topic. The sessions are FREE and hosted as LIVE events via several watching platforms: YouTube, Facebook, RootsTech website.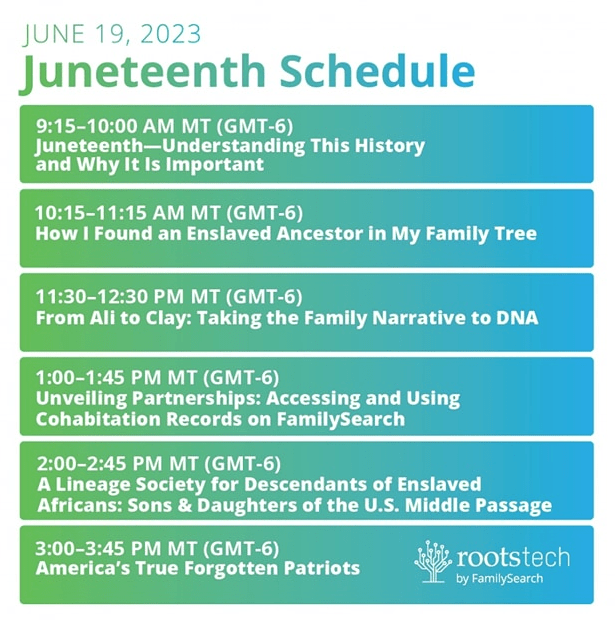 Just to be clear: these sessions are NEW – they are not recycled content from the previous RootsTech conferences. While they may also feature some previous sessions on their website and social media platforms that fit with this topic, the live sessions provide fresh content for viewers. Each session is also recorded and made available on the Family Search YouTube Channel.
The class lineup for Juneteenth is full of great sessions – and I'm honored to have been selected as host of a panel session that centers on a very special project that I am privileged to be a part of: From Ali to Clay: Taking the Family Narrative to DNA.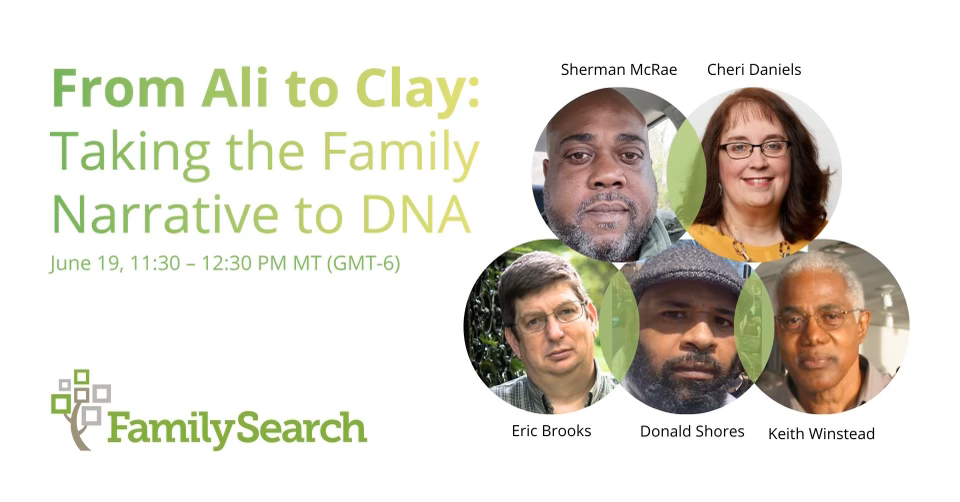 This panel brings together a ragtag group of genealogists, historians, curators, and DNA experts to discuss the generations old family mystery of the origins of Muhammad Ali's Clay ancestry. Many of you may not know that Muhammad Ali's original name was Cassius Clay, and he was born in Louisville Kentucky to a long line of African American Clays.
Ali's family narrative, as recorded by journalists in the 1980s, identified Kentucky Senator, Henry Clay, as the progenitor of this Clay line. With the enslaver identified as the direct line ancestor, you can imagine the challenges that go with trying to confirm this amazing tradition.
This is where the panel comes in – join me and panelists, genealogist, Keith Winstead, genealogist and RootsTech speaker, Donald Shores, Curator of Henry Clay's Ashland Estate, Eric Brooks, and Family Tree DNA representative and RootsTech speaker, Sherman McRae as we discuss the research challenges and strategies that accompany such a project. Our session goes live at 1:30 pm eastern time on the multiple platforms identified above. In case you miss the live version, check out the recording at a later date on the Family Search YouTube Channel.
Happy Juneteenth, y'all and enjoy the day!