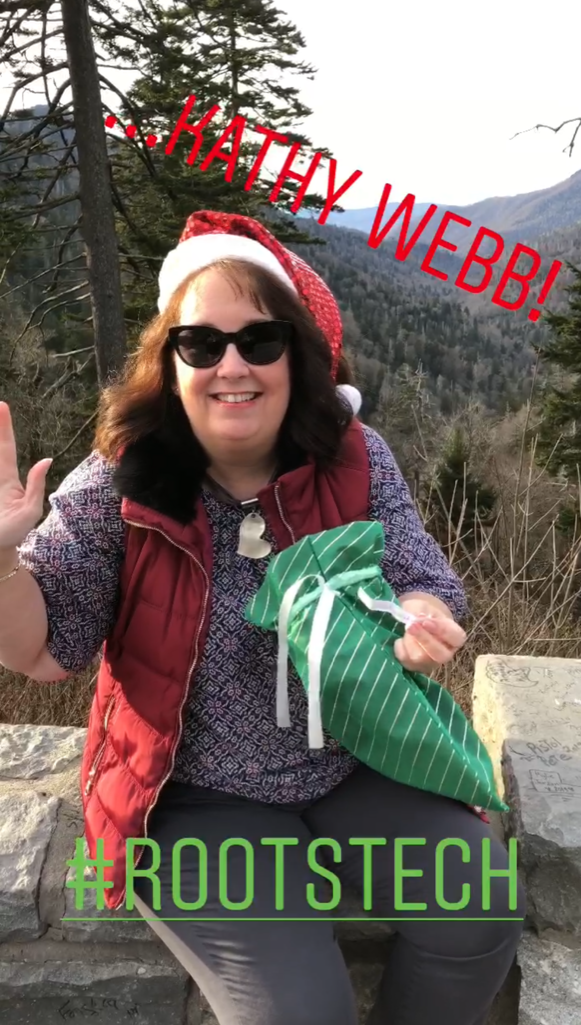 As the Holiday Season draws to a close, we need to be looking forward to RootsTech, 2020! As a RootsTech Ambassador, it was my privilege to pick the winner of my RootsTech full pass giveaway contest. On Christmas Day, my family and I drove up to the Smoky Mountains of Tennessee to announce my winner – The full video can be seen on Instagram or Twitter. Drum roll, please – the lucky winner was Kathy Webb! Even though the winner was chosen at random, Kathy's favorite genealogy find of 2019 was pretty cool – She discovered that her great grandmother was a sheriff in Arkansas! I'd love to know more about that story!
I would like to thank all of those who entered my contest via the three options (blog, Twitter, Instagram)! We had a total of 29 entries with some really great stories. Be sure to go read the comments of the last post to be inspired for 2020. From immigration stories, to DNA cousins, to connecting back to the land of our heritage, the entries were really amazing, and worth the read. Also, thanks to RootsTech for providing these passes for the Ambassadors to give away – there are still some contests running out there for the next couple of days – so if you didn't win, and want another chance – be sure visit the Conference Keeper site for the links.
Now that we are less than two months away from RootsTech 2020, here are the latest updates: The 2020 app is now live – and we've heard the schedule has been finalized – so time to get exploring and setting up your schedule for each day. Another keynote speaker has been announced – Emmitt Smith, Former Dallas Cowboys player, and NFL Hall of Famer.
These next two months are going to fly by – and I can't wait to see everyone in SLC. Be watchful for more announcements as they are released in the coming weeks!
See you soon and Happy New Year!