Greetings, one and all! It's that time of year, again – RootsTech season! The world's largest family history conference is back this March 2-4, and I'm hoping most of you have already heard about the dual nature of this year's conference: Approx. 180+ classes in person at the Salt Palace in Salt Lake City with a similar number of (different) virtual classes available for FREE, online! Just to be clear, both of these options contain NEW classes – and are different from the thousands of on-demand classes that are currently available at the RootsTech website from the past couple of years. CLICK HERE to go directly to the 2023 session/speaker/exhibitor listings.
Which also means there are two ways to register – in-person – or virtually. The virtual option is FREE for all – but pre-registration is required for either choice.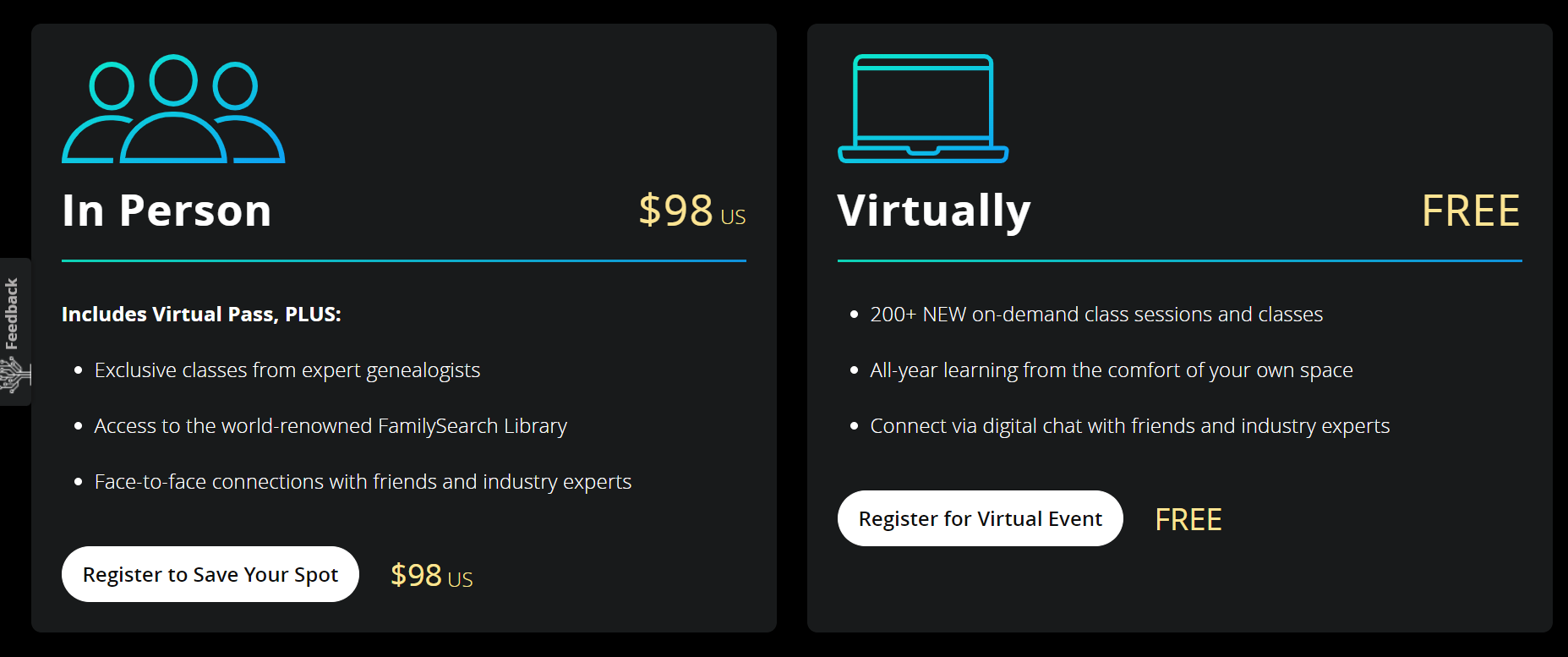 If you will be in the SLC area, and would like a chance to attend the conference for free, scroll down to the giveaway section!
What's new this year:
For RootsTech 2023, the theme is Uniting – and we can't wait to unite once again with our fellow genealogists, family historians, colleagues, vendors, friends, etc. Some really great keynote speakers are being announced as we get closer to the conference, so keep an eye out for additional announcements as March approaches.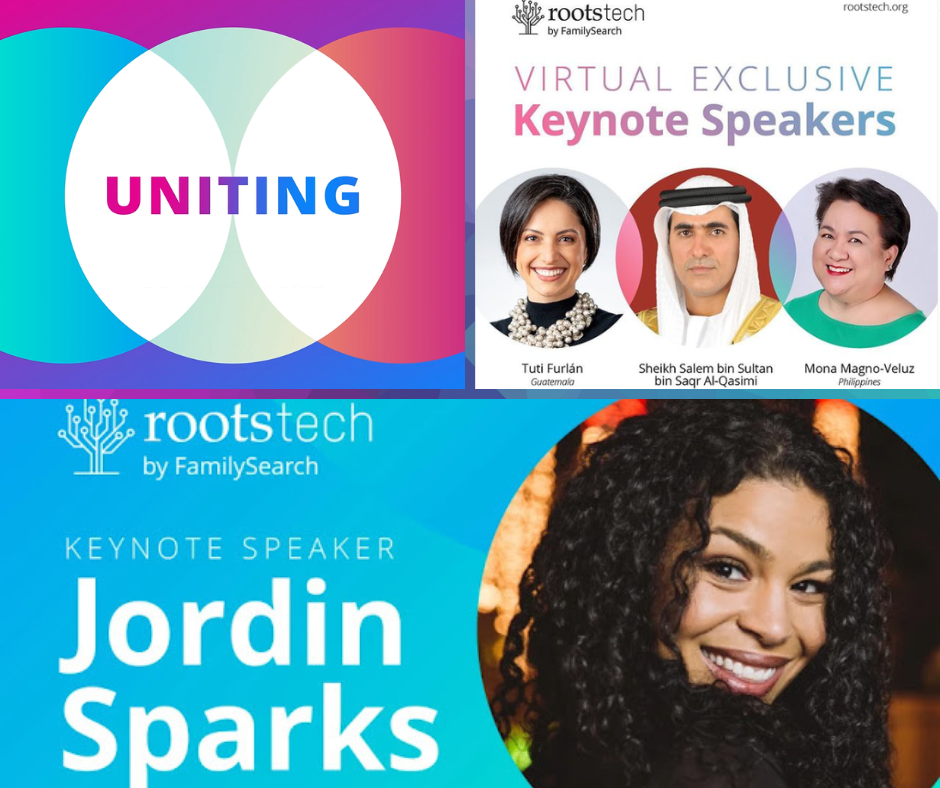 I too have a new slate of sessions to present, both on-site and online for this year's conference:
Picture It: Photo Identification and Preservation Workshop @ the FS Library, Thursday, March 2 • 8:00 AM – 10:30 AM
Picture It: Photo Identification and Preservation Workshop @ the FS Library, Friday, March 3 • 8:00 AM – 10:30 AM
Listen Up! Podcasting Your Family History, Friday, March 3 • 1:30 PM – 2:30 PM
FAN of the Enslaved: A Forensic Look at Two Family's Journeys to Freedom, Friday, March 3 • 4:30 PM – 5:30 PM
Navigating Racial Challenges in DNA Connections, Saturday, March 4 • 8:00 AM – 9:00 AM (Livestream – Online/Virtual)
Avoiding Ancestor Identity Theft: How to Add the Right People to Your Tree, Saturday, March 4 • 3:00 PM – 4:00 PM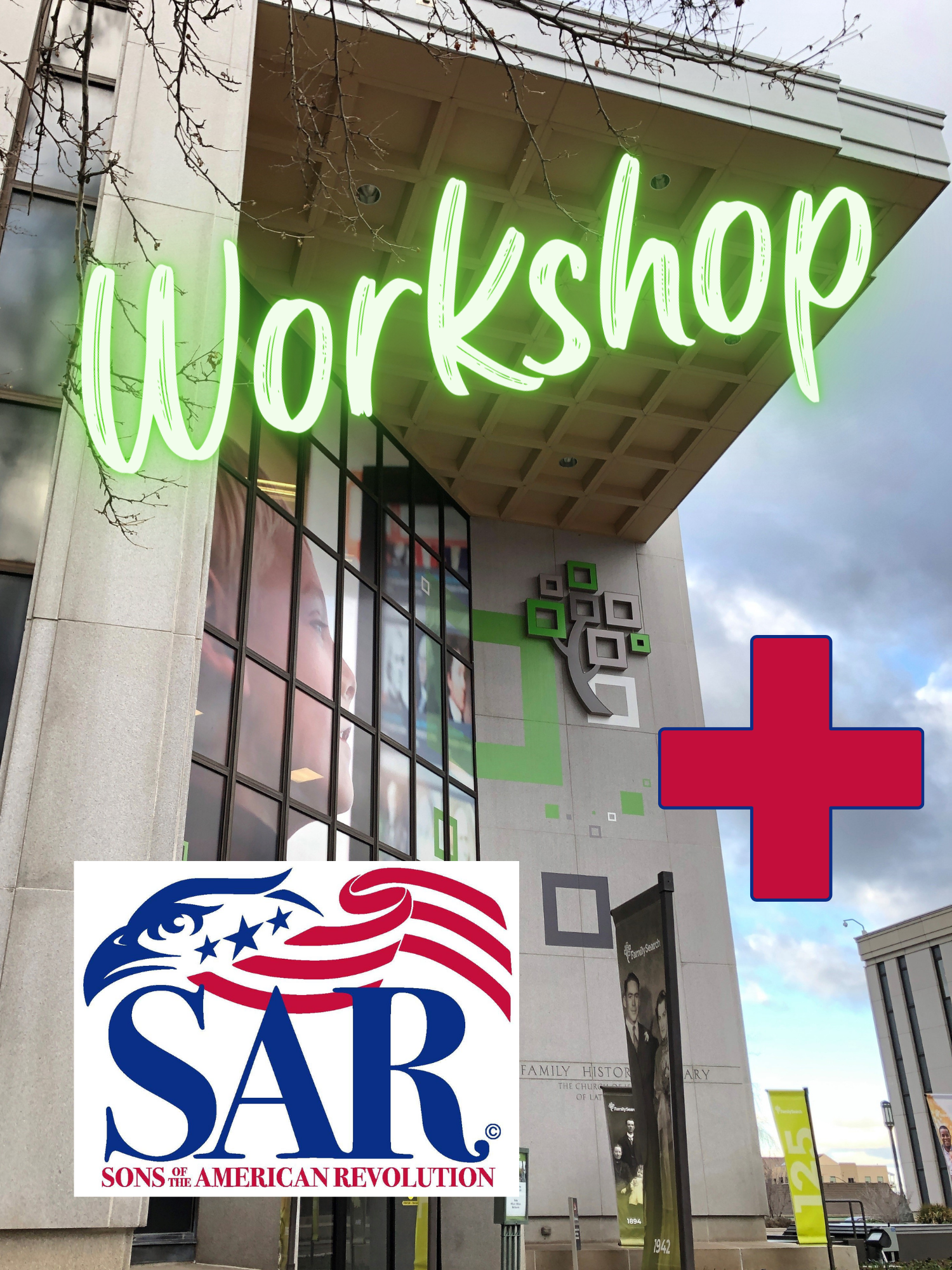 BTW, if you caught that one of my sessions has a seemingly duplicate entry – that's because I am giving this very special workshop twice at the Family Search Library (formerly the FHL)! This 2 hour hands-on workshop is co-sponsored by the the FSL and the SAR Genealogical Research Library!
Here is a description of the Picture It workshops: Have you ever wanted to fully understand the difference between daguerreotypes, ambrotypes, tintypes, and more? This intensive two hour workshop will take a deep dive into the various historic photograph formats that we encounter as family historians – followed by instructions on how to properly handle and preserve them based on format and access needs. Attendees will get a hands on experience as they receive their own pair of gloves to keep as each type of photograph is passed around the room. We will closely examine what each format looks like and feels like in person, sometimes using magnifying glasses to see the processing elements that signal type and production markers. During the preservation phase of the class, attendees will be introduced to the various types of enclosures and tools necessary to preserve their collection. At the end of the class, each attendee will also receive a few enclosure samples to take home. Free class, sponsored by the Family History Library and the Sons of the American Revolution (SAR) Genealogical Research Library. Class limited to 40 attendees.
These off-site workshops held at the FSL is a new concept for RootsTech – so pay close attention to the session descriptions to find additional off-site workshops! And just a reminder that these two workshops are limited to 40 attendees each. Once you register for the conference, you will be able to add them to your schedule which should create a count for those keeping track.
Also new for this year – some special guests joining a couple of my sessions! For Navigating Racial Challenges in DNA Connections – I'll be joined by genealogist, Donald Shores – who will be participating virtually, all the way from Missouri. And for Avoiding Ancestor Identity Theft: How to Add the Right People to Your Tree – I'll have two special colleagues partnering in the presentation – Linda Colston, genealogist at Twin Oaks Genealogy, and Deborah Maddox, Staff Genealogist at the SAR.
We are all so excited to get back together in person – but equally as happy to know that the virtual RootsTech party is still going strong! And don't forget all of those on-demand sessions still available at the RootsTech site right now!
Now for the Giveaway!
As a RootsTech influencer, I am tasked with giving away one free on-site registration to the 2023 conference – a $98 value*! This includes full access to all three days of the conference – featuring 180+ sessions, expo hall, keynote sessions, and main stage fun! You must enter by January 30th – and the winner will be announced on January 31st.
Here's how to enter – just comment below to give me the name of your favorite ancestor. You may also comment on my Twitter or Instagram posts if you prefer. Only one entry per person, please.
Now – what are you waiting for?
*Note: This contest for on-site registration only and does not include any travel monies for arrival/attendance. The virtual conference is free for all.