Education:
M.S.L.S., Library Science – University of Kentucky – Focus: Special Collections/Archives
B.A., History – University of Kentucky, magna cum laude
Work:
Kentucky Historical Society: Frankfort, KY, 2011-present
Program Administrator: Head of Library and Archives, Editor of Kentucky Ancestors
Fincastle Designs, 2011-2018, Part-Time  
Owner/DBA: Freelance research/marketing/social media/public relations business
Pastology, LLC: Acton, MA, 2009-present, Part-Time (In Development)
President/Co-Founder/Marketing Coordinator
University of Kentucky Libraries: Lexington, KY, 2000-2011
Interlibrary Loan – Lending Manager
Bourbon County Schools: Paris, KY, 1993-2000
Library paraprofessional/Substitute Librarian/Technology Coordinator
Book Chapters:
Genealogy and the Librarian: Perspectives on Research, Instruction, Outreach and Management (McFarland Publishers) – 2018 – Editors: Vera Gubnitskaia & Carol Smallwood. Forward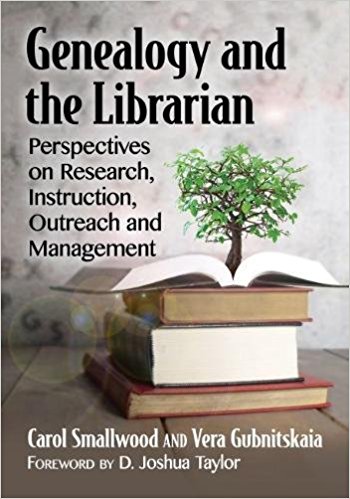 by: D. Joshua Taylor. Available on Amazon! 
Chapter: Genealogy Literacy: Helping Patrons Build Stable Trees through Information Literacy Standards
Chapter: Crowdsourcing Genealogy with Tea and Sympathy: Outreach Approaches that Instruct and Engage
Discovering Our Past (Hopewell Museum Education Committee) 1999
Article Highlights:
"Project Management Software", FGS Forum, Vol. 29, Num. 4, Winter 2017
"Brick by Brick: Building Your Brick Wall", Kentucky Ancestors (Print), Vol. 48, Issue 2, Winter 2013
"Brick by Brick: Tips for Dismantling Your Brick Wall", Kentucky Ancestors (Print), Vol. 48, Issue 3, Spring 2013
"Shadows of Eastern State Hospital", Ace Weekly, Lexington KY, December 2010
TV Appearances:
"Blue People Roaming the Hills", Mysteries at the Museum, Travel Channel, March 2014
Kentucky History Treasures, WTVQ, 36 Lexington, KY, 2014-2016 (T.T. Wendell Collection, R.B. Stone Collection)
Kentucky Ancestors Town Hall, KHS, 2017/2018 (In Development)
Speaking Highlights: (See 'Speaking' Page for upcoming sessions)
September 10th, 2020: Discovering Your Kentucky Ancestors. Virtual (Zoom)- Allen County Public Library, Fort Wayne, Indiana.
Tackling Difficult Chapters of our Family History; The Hoarder's Guide to Family History Preservation; A Digital Citizenship Primer for Genealogists. (3 sessions) RootsTech Family History Conference, Salt Palace Convention Center, Salt Lake City, Utah, February 2020.
August 23rd, 2019: (2 sessions) Land Speculators and the Records they Left Behind & Kentucky Research Hot Zones. Kentucky History and Genealogy Conference, Mercer County Public Library, Harrodsburg, Kentucky.
Tempest in a Teapot – The Historical Influence of Tea, Woodford County Public Library, Versailles, Kentucky, December 2019.
August 23rd, 2019: (2 sessions) Land Speculators and the Records they Left Behind & Kentucky Research Hot Zones. Kentucky History and Genealogy Conference, Mercer County Public Library, Harrodsburg, Kentucky, August 2019
Kentucky Roots Revealed: Statewide, Regional, and National Resources for Finding Kentucky Ancestors; Deconstructing the Neighborhood: Using the Sanborn Fire Insurance Maps to Understand Your Ancestors' Communities  National Genealogical Society Conference, St. Charles, Missouri, May 2019.
Past Forward: Tech Tools and Strategies for Sharing Your Family History Through a Consumable Genealogy Plan. RootsTech Family History Conference, Salt Palace Convention Center, Salt Lake City, Utah, February 2019.
DNA and the Construct of Identity: Assisting Genealogy Patrons with DNA Questions, Kentucky Library Association Annual Conference, Louisville, KY, Sept 2018.
Keynote: The Family Archivist – Preserving Your Heritage & Lunch session: Technology for Research, Northern Kentucky Family History Conference, Church of LDS, 144 Buttermilk Pike, Lakeside Park, Kentucky, Oct 2018.
"Fostering Genealogy Literacy through Virtual Engagement", ACRL Virtual World Interest Group (Association of College and Research Libraries), Community Virtual Library, March & April 2018 Annual VCARA Conference (Virtual Center for Archives and Records Administration), SJSU: San José State University, Second Life
"The Mad Hatter: Managing Your Many Duties Through Project Management Software," "Navigating the Draper Manuscripts: Paths of Migration," & "Outdated Outreach: Breathing New Life into our Outreach Approach," Federation of Genealogical Societies Conference, Pittsburgh PA, Sept/Oct. 2017
"The Memory Ninja: Using Pinterest to Engage Your Family in Memory Collection", National Genealogical Society Conference, Richmond VA, May 2014
"Piecing Together History: Crowdsourcing Events to Glean the Most Out of the Current Generation", RootsTech Family History Conference, Salt Lake City UT, February 2014
"Genealogy Literacy: Providing Reference Services to a Patron Base in Transition", Kentucky Library Association Conference, Louisville KY, September 2013
"The E.E. Barton Papers of Northern Kentucky", National Genealogical Society Conference, Cincinnati OH, May 2012
Committee Appointments:
Secretary, Vice President, Second Life Virtual Genealogical Society, 2019-2020
KDLA Local Records Grant Review Committee, 2018-present
KLA Chair, Genealogy and Local History Round Table, 2015-2018
Harrison County Heritage Council: Board Member/Committee Chair, 2013-2016
Blogs:
Exhibits:
"Genealogy Journey: Finding Our Ancestors, Discovering Ourselves", Second Life Exhibit, Community Virtual Library, Cookie Island, July-September 2018
"Unbridled History: Celebrating the Horse Industry of Kentucky", Second Life Exhibit, University of Kentucky Island, March 2009
"Stitching Pieces of Time: Kentucky Quilting Traditions and the Wade Hall Quilt Collection", Second Life Exhibit, University of Kentucky Island, November 2008
Memberships/Affiliations:
National Society Daughters of the American Revolution: Member, Frankfort Chapter, 2015-present
National Genealogical Society: Member, 2011-present
Second Life Virtual Genealogical Society: Member, 2016-present, Secretary, 2019-2020, Vice President, 2020-present
Kentucky Library Association: Member/Round Table Chair, 2007-2017
Kentucky Historical Society: Member/Employee, 2011-present
Association of Professional Genealogists: 2009-2012
Hamilton County Genealogical Society, 2016-2017
RezLibris Magazine: Arts/Entertainment Editor, 2008-2010